My favorite tree theme baby shower decorations are ones that can go home with the guest of honor that she can use to decorate the baby's nursery. Unless you host numerous showers each year and have an endless amount of storage space (which I do not and am jealous as all get out if you do) this is a super way to decorate the venue and make the mommy-to-be feel like she made out like a bandit in the gift department which is so much more fun than having to figure out a way to pack and store lots of stuff that you may never use again when the party is over.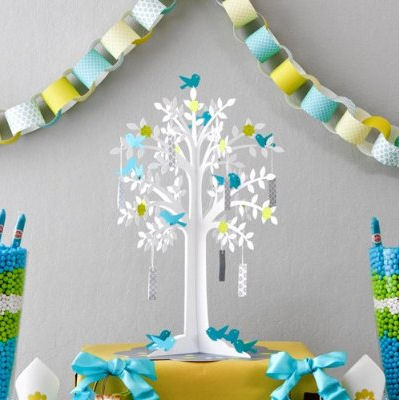 Go Here to See More
One of the best tree
theme baby shower
decorations that I've used to decorate that mom was tickled to load in her car after the celebration was a large
tree wall decal
that I ordered after craftily quizzing her what her nursery's colors were. For less than $30 I decorated the wall behind the gift table and made my friend squeal with delight..priceless!
The next great idea is a wishing tree which operates along the same lines as a wishing well at a
money tree shower
. Only with a wishing tree, the guests are asked to pin wishes on the branches instead of cash. Of course, if you wanted to pin a few dollars inside your wish, I'm sure that would be appreciated.
If you just insist on adding your tree theme
baby shower decorations
to your cache of supplies to use over and over again, be sure that you buy them in gender neutral colors.
That way you will have the option of adding blue birds for a baby boy or pink flowers for a baby girl to the branches of the tree for a gender specific look.
The little pink or blue birds and flowers that you use to decorate the branches can also be used to enhance the look of the tableware.
Perch a paper bird on the rim of water glasses and champagne flutes for an inexpensive yet elegant touch.