Some of the most expensive items moms buy for the baby and nursery are absolute, "could never do without" necessities and some (according to many) are not! There are all sorts of nursery checklists and diaper bag checklists with items on them that I've managed to do without. Then on the other hand, I have been known to splurge on high end stuff like designer diaper bags that made my frugal friends screech in pain and (I'm sure) scorn me to anyone who would listen.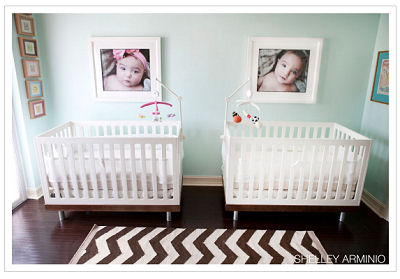 Oeuf Classic cribs in walnut
with Dwell Studio Bedding
I would like a reprieve from their scathing remarks for a bit so you won't find a designer baby bag anywhere on the following list. That being said, I'm sure that I will still draw a few scathing remarks from my thrifty readers.
Bring it on, ladies! I've developed skin as tough as a rhino's rump and I can take it.
No. 1.
A crib: You might skip a cradle. You can skim right past the bassinet but the baby will have to have a bed to sleep in unless you plan to co-sleep until he or she is ready for a big bed. There are ways to furnish the baby's room frugally but even if you are dedicated to buying second hand, relatively speaking, the crib and nursery furniture will be the most expensive outlay of funds.
No. 2.
The nursery furniture: Nursery armoires, changing tables and gliders are next on the list. Buy only what you need and rely on organization to keep the room clutter free.
No. 3.
The baby stroller: A full size stroller, even one without all the bells and whistles, will set you back. Expect to pay at least $100 to $150 for a basic model and more if you must have the exact same stroller as your favorite celebrity mom has chosen for her baby.
Those are, in my opinion, the most expensive items moms buy for the
baby and nursery
under normal circumstances. Unfortunately, it's rare for any of these big-ticket items to be presented as
baby shower
gifts for obvious reasons; they are expensive but they are also items that parents prefer to research and buy themselves. In fact, these purchases are so important that well meaning grandparents who want to help out would be better off presenting mom and dad with a gift certificate rather than surprising them with (gasp) a pricey gift that is all wrong.
What was the most expensive item you bought to prepare your nursery for baby? Do you have any shopping tips to help others save a little money?