I'm calling this post baby shower cakes gone wrong rather than "funny baby shower cakes" after careful thought and consideration. Before you judge me you should know that there is not a soul on this earth that appreciates the beauty of pregnancy more but somehow the idea of non-medical personnel taking a cake knife and carving up pregnant belly is (to me):

a. weird
b. gruesome
c. anything but appetizing


The first case in point is this hot pink and black beauty.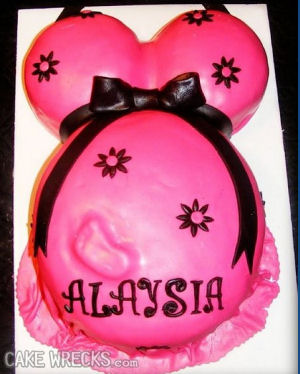 Via Cake Wrecks
Right off the bat, I have to admit I'm extremely envious of Alaysia's cake's impressive boobs and that I love hot pink and black
baby shower decorations
but setting those considerations aside; the idea of slicing up a tummy with a little footprint doesn't exactly put me in a festive mood.
The next pregnant belly cake was obviously baked for a mother-to-be expecting boys. Actually, if I had to guess, I would say she was expecting several of them.
Admit it, you tried to match up the baby hand and footprints to figure out how many babies this mommy of multiples was expecting. I know that I did!
Does it strike you that these expensive, professionally baked baby shower cakes are so lovely if it weren't for the prospect of the bellies destined to be sliced open?
Take, for example, this elegant pink and white polka dot cake with the flowing fondant bow. But DEAR LORD look at the size of that baby girl's foot! Can you say, "Mommy's gonna need a whopper of an episiotomy?
Let this be a lesson to you to think twice before giving your baker directions lest you join the gallery of
baby shower cakes
gone wrong. For those of you who have pictures of a professionally baked cake that either by twist of fate or by design turned out to have, shall we say, a "unique" personality, please visit
Cake Wrecks
to upload pictures and make light of your disaster. I promise that we will laugh
with
you, not
at
you.