This flower ball has to be one of the most inexpensive and EASY pink and green Daisy baby shower craft ideas EVER! And I just had to share the pictures of the process just in case my silk flower ball instructions/tutorial fails to cover all of the details.
Here's everything that I used:
a Styrofoam ball in whatever size you need. I used a 6 inch ball for this project

2 sheets of tissue paper per 6 inch styrofoam ball in a color that is similar to that of whatever kind of flowers that you plan to use

A mini-hot glue gun. My regular sized one was just too much for me to handle on these little stems but you may be better at it than I am; you be the judge as to whether or not you can manage this without burning your fingers.

Flowers of your choice. FWIW I started out with salmon pink Gerbera Daisies that I adored but I found that they didn't work. They were too wide and flat or something. The less expensive (read CHEAP!) Pink and green daisies look much nicer. It took more of them but they didn't cost nearly as much as the Gerbera daisies.

1: Remove a pile of silk flowers from their stems while the glue gun is heating up.
2. Smooth tissue paper over a portion of your ball. I didn't glue it or pin it in place but you can secure it with pins or a little glue if you need to. I just held it in place and then let the flowers do the work.
3. Dab a dot of hot glue on the stub of your blossom and quickly poke it through the tissue paper and into the ball.
4. Space the flowers so that their petals overlap each other slightly.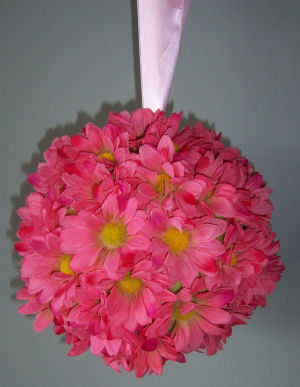 After the styrofoam ball is completely covered in flowers you can either display it "as is" on a pedestal or on top of a pillar of some sort or you can do what I did and attach a length of ribbon, decorate it with a big bow made from satin ribbon and hang it from shepherd's crooks along the sidewalk leading to the house where more of my
pink and green Daisy baby shower craft ideas
were on display. And yes, I will be uploading pictures of the pink and green
baby shower invitations
, decorations and dessert table very soon!