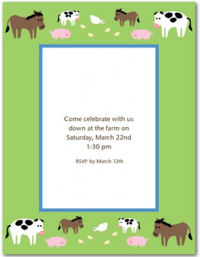 SEE MORE HERE

These farm animal baby shower invitations had all my favorites on them, horses, cows, cute, pink pigs and even a few baby chicks. I admit that I was slightly disappointed that there were no yellow ducks or geese but since the rubber ducky baby shower invitations have their own category, I suppose that's to be expected.


But I feel I must tell you that when I found this baby shower invitation it was actually a personalized birthday party invitation for a little boy. You see, someone contacted me and said that they were having trouble finding invitations for a farm animal baby shower and wanted to know if I had any ideas or pictures of examples they could go by to help them make their own homemade invitations.

The lady indicated that she didn't find the idea of making her own cards especially appealing. I set out to see if I could find some cute store bought cards to spare her having to buy craft supplies to add to the expense of the necessary farm animal baby shower partywear , decorations and food. What I found was enough wild jungle animal invitations for 100 showers and no farm animal baby shower invitations whatsoever! That's pretty confusing what with the popularity of decorating the nursery using baby farm animals , isn't it?

I was so happy that my friend really liked this card that I found AND she also liked my suggestion of considering a petting zoo or a farm animal sanctuary as possible farm theme baby shower venues. When I was reading about Molly B, the cow that escaped (more than once) I read that the Non Profit Farm Sanctuary where this lucky black and white cow now resides books all kinds of events at the sanctuary including children birthday parties, weddings, business events, etc. PLUS they do weddings...so why not a farm theme baby shower? The kids that attend with their moms would love that and it would help support the sanctuary and if you need farm animal baby shower invitations, I found at least one!