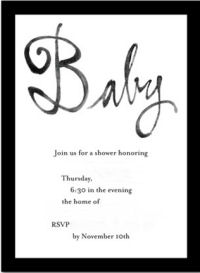 SEE MORE HERE




Have you seen pictures of the baby shower that Oprah hosted? I did AND I found some amazing black and white baby shower ideas in the process! To give you some background, Oprah hosted a baby shower for Catherine Shranks in December last year (sounds like a long time ago, but it was only a month!) while she was in Melbourne. It was hosted at a local baby boutique, Bebe, and styled by Sharnel the web-mommy of My Life My Loves blog and you can see pictures of the "to die for" pink baby shower that Oprah hosted right there on her blog!

And what a delightfully pink affair it was! I enjoyed looking at each and every one of the vendor's websites and when I was checking out the bakery that made the baby shower cupcakes, I hit pay dirt!

You see I am styling a black and white baby shower in the next couple of weeks. The invitation that you see above was picked since the mother-to-be showed a strong preference for black and white baby shower invitations and a shower color scheme of black, white and red! I was in the process of checking into black and white baby shower decorations when I found the perfect cupcakes for the shower right there on Sweet Cupcakes and Treats which is the bakery that created the pastel pink, floral cupcakes for Oprah's party.

The black and white cupcakes are called "Fred Astaire". They are in shiny silver jackets, and have thin, black stringwork bows with a silver, edible bead decorating the center. Alongside them are white on white cupcakes in silver cups with silver decorations. They remind me of a tuxedo and are VERY elegant; just perfect for the black and white baby shower invitations. And if I'm right, my red camellias should be in bloom right in time to provide free flowers for my floral centerpieces! What can say? Sometimes just the perfect inspirations just falls in your lap and when it does; I would be the last person to complain!