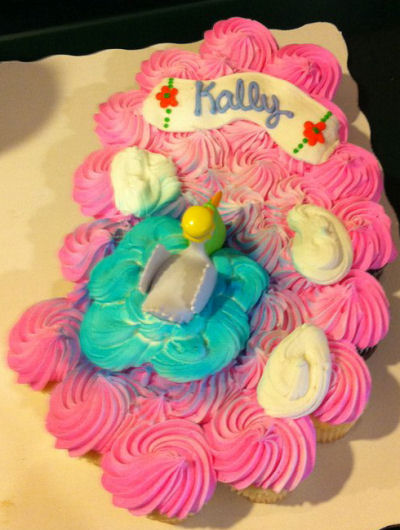 SEE MORE HERE!


Just when you think you've seen all of the ducky or rubber duck baby shower cake ideas, in slips something unique that you never have seen before. As I mentioned in a previous post, I was recently hostess of a neutral rubber ducky baby shower and spent more than a little amount of time shopping for cute baby shower decorations and centerpieces. Not meaning to pat myself on the back, but I really hit it out of the park in both categories with the help of a very savvy florist here in town. Ok, that's enough about the cute table decorations.

The purpose of this post is to showcase this duck themed cupcake display for a baby girl. Usually yellow duck baby shower themes are chosen because the mother-to-be doesn't know or doesn't want to know the gender of her unborn baby and most duck baby shower cake ideas completely exclude gender specific colors of pink and blue. But here we have
a cute little, white duck cake topper swimming along on a small island of baby blue floating on a large sea of cupcakes with pink frosting. What a wonderful duck baby shower cupcake idea for boy and girl twins!

The collection of cupcakes gives the same visual as a sheet cake only requires no special serving tools. It's kind of a "pull apart" baby shower cake that could be adapted to many different baby shower themes. This one is going in my folder of baby shower ideas for sure!