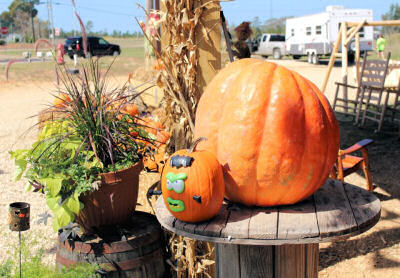 I can tell you how to throw a cheap Halloween baby shower this fall so listen up! If you've been to the grocery store lately, you know how expensive fresh produce has become and sadly, pumpkins are more expensive than ever!

But what's a
http://www.unique-baby-gear-ideas.com/fall baby shower without pumpkins?

Let's take another look at these big, orange beauties and you can decide whether they are as prohibitively expensive as we thought or whether we need to load up our shopping cart with as many as we can carry.

It's a fact that decorative paper pumpkins are dirt cheap but chances are that you will get only one use out of them, TOPS, before you have to toss them in the trash.

With real pumpkins, you get to

a. arrange them to make a stunning display at the entrance of your shower venue

b. relocate them to your front lawn after the baby shower is over

c. include them as part of your Thanksgiving decorations

d. roast the seeds

e. make a pumpkin pie

Once you consider all of the ways that pumpkins can be used as
baby shower decorations as well as vitamin packed food for your family, I'm sure that you will realize just how frugal a purchase they are! And if you know of a local farmer, chances are they will be even cheaper than if you bought them at the grocery store. Now, THAT'S how to throw a cheap
Halloween baby shower!