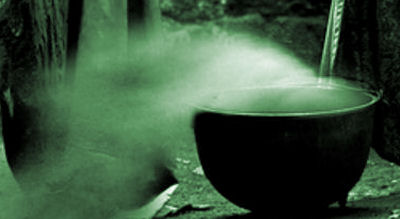 Here are a few Halloween baby shower beverage ideas that are spooky, fun and inexpensive. There are no weird ingredients or flavorings to buy but you might want to ask your friends to hang onto their empty Starbucks Frappuccino bottles for a few weeks so that you will have them ready to fill with your frightfully delicious punch! Wash the glass bottles, remove the labels before the party and replace them with these great free, printables from the This Blog. Don't forget the super creepy matching straw flags!

NOW...here's what you do to turn your favorite recipe into the perfect Halloween party punch. Whip up a recipe of your favorite baby shower punch in the old witch's cauldron and then add some enough black and green food and drink coloring to give it a pleasantly putrid color.

I tried this with my favorite
pink baby shower punch recipe and everything went well but I wished that I had added the green coloring first and then the black so that the drinks would have had more of a green-ish color.

Feel free to share your own Halloween baby shower beverage ideas, recipes and pictures of your Halloween baby shower decorations in the comments section!