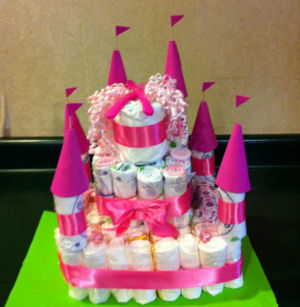 SEE MORE HERE

This adorable princess castle diaper cake has to be one of the cutest princess baby shower ideas ever! From the pink satin ribbons that secure the rolled onesies on each of the three layers all the way up to the hot pink turrets flying the paper flags of the (undoubtedly) magical kingdom this diaper cake is enchanting. And all those diapers; it just has to be the baby shower gift of a lifetime for a mother expecting a baby girl.

In colors that match the
princess baby shower invitations
here we have a precious hot pink and green princess baby shower cake. The crown cake topper is bejeweled with non pareils and on the sides of each layer are alternating pink and green stripes.
All of this hostess'
princess baby shower ideas
were bright and cheerful and I'm saving these pictures so that I can refer back to them the next time I host a
princess baby shower theme
for a baby girl!