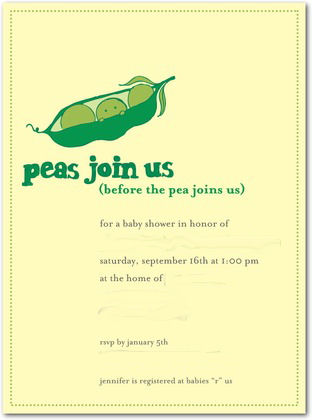 SEE MORE HERE

Aren't these sweet pea baby shower invitations absolutely perfect for a pea pod baby shower theme? I am co-hostessing a shower for a friend who is expecting twins and the other hostesses agreed that this was the best of all the baby shower themes for twins that we had to choose from since the babies' nursery is decorated in green and yellow!

We have some 2 Peas in a Pod balloons ordered and I just read a blog with some great ideas for a very practical centerpiece that is chock full of baby blankets and diapers that mommy gets to take home as a gift! Orange It Lovely also helped put together a peapod baby shower theme recently and she posted some excellent instructions on how to make CUTE diaper bundles for centerpieces.

She said that she wasn't sure if the actual name of her sweet pea decorations was accurate, but when I saw how precious the diapers wrapped in receiving blankets were...I could have cared less what anybody calls them! I just knew I wanted to include everything needed to make them on my list of sweet pea party supplies!

If you want to get a supply list and read how she made the arrangements, I highly recommend that you make a visit to her blog!