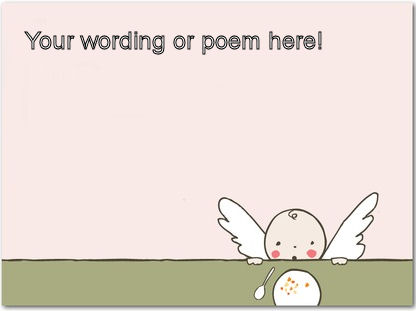 SEE MORE HERE

Even though there are lots of angel baby shower invitations mailed throughout the year, during the holidays an angel baby shower theme takes on a more spiritual or religious meaning. It goes without saying that every child is a gift from Heaven above whether they are born in December or on the 4th of July. But where the baby shower decorations and invitations for a celebration at other times of the year for an angel themed party might be whimsical and cute, devout parents expecting a baby to be delivered near the date when Christians celebrate the birth of Christ our Lord and Savior may prefer their newborn to be welcomed in a manner that is reverent with consideration to the family's beliefs.

ANGEL BABY SHOWER INVITATIONS

A favorite Bible verse is a favorite way to personalize cards of all kinds in all seasons, but it would be especially appropriate to include a passage referring to the angels heralding the birth of the Christ child on an invitation for a celebration during the holidays.

Instead of scripture, you might include a short poem. Here are some examples of generic angel baby shower invitation wording that will be super to use during the Christmas season:


Our own little angel will soon be here

That will bring his or her special brand of Christmas cheer


or


Our special little Angel is on his or her way

And is expected to arrive somewhere close to Christmas day

Please join us to share some gifts and have some holiday fun

And celebrate the arrival of this special little one


And as far as color is concerned; white cards with gold letters would be very elegant as well as midnight blue cards with gold lettering.

CHRISTMAS ANGEL BABY SHOWER DECORATIONS

Angel baby shower ideas that are lighthearted and fun might include baby shower decorations on the gift and serving tables like clouds of cotton wool or if you prefer edible decorations, cotton candy in your choice of pink, blue or solid white anchored by inexpensive holiday decorations reflecting the color scheme of your choice. Silver or gold would add sparkle and provide a festive atmosphere.

CHRISTMAS BABY SHOWER FAVORS

Silver or gold cherub figurines or personalized votive candles can be used to decorate tabletops and sent home with your guests as a remembrance of the day and a token of your appreciation. The angelic cherubs with their wings would be a perfect match for your angel baby shower Heavenly inspired invitations and completely gender neutral if a unisex baby shower theme is needed.