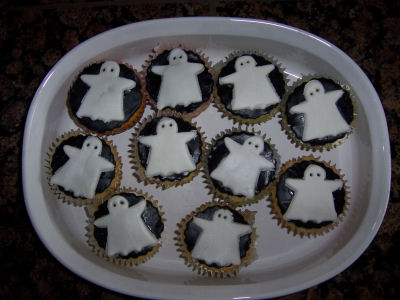 I stumbled into the ghost design of these easy Halloween cupcakes. Before I tell you the how and why of decorating the cupcakes, let me me warn you to NEVER, EVER let people know that you are learning to decorate cakes (or cupcakes) with fondant because they will come up with more requests for free cakes than you can shake a stick at!

These well meaning friends and family members will completely overlook the fact that you are a beginner that doesn't know squat about how thick or thin to roll the fondant sheets let alone the finer details of sculpting cute ghosts, witches or goblins to use as toppers.

Now, getting back to how to make these easy Halloween cupcakes I must confess that I took the quick and easy way out and used a yellow cake mix and store bought frosting to save time. Not being an experienced, professional baker that performs well under pressure this was the best route to take.

I colored the frosting that I used to cover the tops of the cupcakes black using gel food coloring. The frosting is no where near as smooth as it seems in the pictures, but it still looks presentable.

After all of the cupcakes were frosted, I tried to use a cute ghost Halloween template as a pattern for cutting out the fondant but the edges were not smooth and the outline of the ghost template was too small for me to use a cutter. In a panic, I started digging in my cookie cutter box and found a tiny angel which as things turned out, made a very nice ghost after using a frosting tip to make two spooky eyes. The fondant made these easy Halloween cupcakes much easier than if I had had to pipe the ghost topping. They are so cute and were so easy to make that I plan to keep these in my notebook of Halloween baby shower ideas along with my collection of Halloween baby shower decorations and menu ideas!