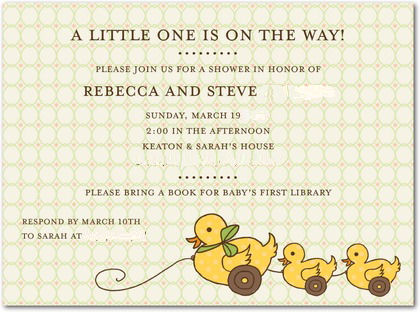 SEE MORE HERE

Here are a few rubber duck baby shower ideas that will make a big "SPLASH" without draining your wallet dry. If you will excuse all of my attempts to make rubber ducky funnies let's get on with it!

YELLOW DUCK BABY SHOWER DECORATIONS

There's no need to spend money at the florist for expensive centerpieces for the tables. Visit either your local craft supply store or even the local hardware store (depending on the size of the washtub that you are looking for) and buy enough round,tin tubs to have one for each table that you will be decorating. If you find a good deal, you may want to buy extras because there are several ways you can use them for your duck baby shower like as a substitute for a gift basket or you could fill small buckets with favors instead of a goody bag or box. After you center the galvanized tubs on each table, fill them 3/4 full with water and float several rubber duckys on the water. VOILA! Instant duck theme baby shower centerpieces!

YELLOW DUCK BABY SHOWER FAVORS

Buy a duck shaped cookie cutter and bake your own sugar cookies. Fill your guests' goodie bags (or tins if you read the above paragraph) with delicious treats that are just...DUCKY!

These are very cheap rubber duck baby shower ideas considering that you will be making your own baby shower favors and centerpieces!