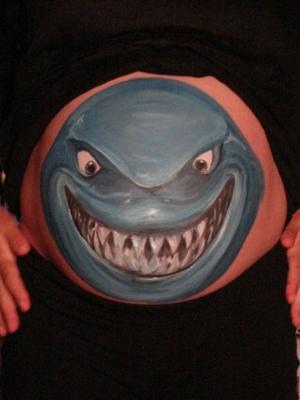 Here are some of the best last minute Halloween costume ideas for pregnant women that will get that cute little baby bump working for you that are both FAST and CHEAP! Why should you miss out on all the fun just because your waistline is temporarily expanded? Pregger chicks like to go Trick or Treating, too!

If this pregnancy is not your first you may have older kids who would be heartbroken if mommy didn't dress up and join them in the fun. If you have several kids to dress up, that's all the more reason you need some quick and easy pregnant Halloween costumes. These last minute Halloween costumes can be put together FAST plus they are comfortable enough to wear so that the mother-to-be can last until it's time for the last little goblin to go home.

Some of the outfits are funny and some are just downright hilarious and who can't use a good laugh(during pregnancy or any other time for that matter?). Choose the best Halloween costume for you and if you add your own cute decorations or use one of our suggestions to highlight a particular aspect of your own personality, please drop a comment and tell us all about it!

FUNNY HALLOWEEN COSTUME IDEAS for PREGNANT WOMEN


1. CAN YOU SAY MOOOOO? Trim the wrist and hand portion from a pair of rubber kitchen gloves (the thicker and pinker the better) keeping the finger portion in tact. Using a whip stitch sew the fingers onto a black maternity top on each side of your baby bump ala a cow's udders.

2. Cut a round opening in the front of a t-shirt (does NOT have to be a maternity shirt) making your pregnant belly visible after having painted it as:

A. a Jack o Lantern
B. a fish bowl
C. planet earth
D. a porthole with a baby peeking through.


HALLOWEEN COSTUME IDEAS for PREGNANT COUPLES

This Halloween costume idea requires that dad be a super good sport since he basically has to dress in "drag" for it to be effective. Your partner will dress up as a woman and the pregger chick will dress as a rough and ready guy with a huge beer belly. Clothing and supplies include worn out work pants, a tight, stained (a t-shirt with a redneck slogan or beer logo is cool!) shirt that accentuates your belly, a cap, leather boots and artificial facial hair. Appropriate accessories would be a can of snuff in the back pocket and a "spit can" if gross and disgusting is the way you want to go!

BEAUTY QUEEN in TROUBLE

Every baby is a gift from on high but evidence of an unplanned pregnancy might seem slightly "off" on a would-be beauty queen. Clothing and accessory requirements for this costume would be the most elaborate gown you can find that will accommodate your belly and personalize a satin sash with a funny saying like "Miss Planned Parenthood", Miss Ultra-Congeniality or "Most Popular". Throw in an addled escort and you have a funny last minute Halloween costume for pregnant couples!