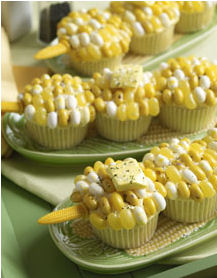 Who wants corny, yellow baby shower cakes? Well, if they are cute cupcakes like these, you can count me in! I have to tell you that when I saw these little cuties, on More Cupcake Designs I did a complete double take!

The little yellow baby shower cupcakes look incredibly like real corn on the cob but they are made using light yellow cake frosting, jellybeans and Laffy Taffy.

I'm filing this recipe in my barbecue baby shower ideas file folder but they would be lovely for a 4th of July baby shower theme or any backyard party.

The dishes and corn skewers do a lot to add an air of "corncob" authenticity to the treats, but even if I were able to duplicate the dishes to the letter, I wasn't sure that I could pull it off. You see, I'm not the most accomplished baker and certainly not a professional when it comes to baby shower cake decorating ideas.

But WAIT...the website has step-by-step video instructions that puts trying my hand at baking these little, yellow baby shower cakes at the top of my "to do" list.