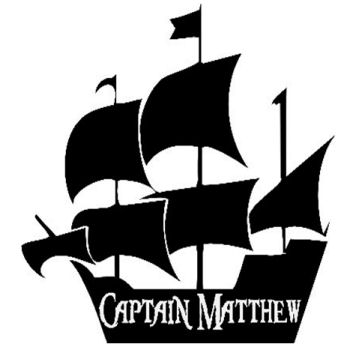 SEE MORE! PIRATE BABY SHOWER DECORATIONS
Yo HO HO! Here's a tip for some pirate baby shower decorations that won't be lounging in a landfill after the party is over! A personalized pirate ship wall decal is a super pirate theme party decoration that will do double duty as a baby shower gift if the mom to be has chosen to decorate in a pirate theme. Even if the nursery's decor is considered to be complete and ready for baby's arrival, chances are mom will make room to display a creative wall decoration.

How could she possibly resist since the ship it has her baby boy's name or initials monogrammed right there on the hull? If the mother to be hasn't chosen a name, you might have a famous pirate quote, "Ahoy Matey" or "YO HO HO" instead of a monogram.
If the vendor is local, you might ask for a gift certificate to have the nursery wall decal personalized after the baby is born.
Onesies are also items that would work well as pirate baby shower decorations when the hostess has personalized a pirate onesie with a Jolly Roger graphic or a pirate hat on the front. Use the pirate baby onesie in an arrangement along with a pirate pacifier and you have the makings of a lovely pirate themed baby shower gift basket that mom will enjoy using once her little buccaneer has made his appearance.
If you have questions or some pirate baby shower decoration ideas that you would like to share, please share them in the comments form below and above all you should return to
Unique Party Decorations, Party Supplies and Decorating Ideas
to see tips shared by other hostesses.