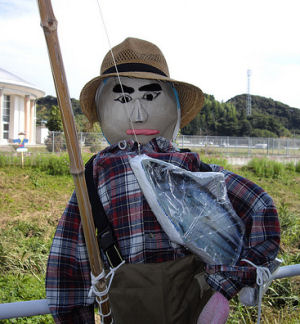 A scarecrow contest is an excellent Halloween party idea for kids. Here are some scarecrow decorating ideas that you may want to add to your growing file of party decorations or you can share the tips with younger guests participating in the fun and games.


1.Have several piles of pants, shirts and bags or pillowcases (with faces already painted?) and plenty of loose straw (or hypoallergenic stuffing for pillows if you prefer) located beside a chair or bale of hay where the finished product can be seated. Instruct each team to fill the pants, shirt and makeshift head to form the head and body of the scarecrow.


2.Once the basic shape is formed, direct your contestants to the scarecrow costume accessories that you have provided. The bins of wigs, hats, masks, additional clothing, costumes and props that you gathered before the party will now be used in putting together a winning combination of unique scarecrow decorations according to the kids' vision of the perfect straw man or woman as the case may be.

3.Have a panel of impartial judges rate each team's (or individual's) work according to originality of design.

It would be a nice touch to allow the winner to take his or her creation home as a prize for having the best scarecrow decorating ideas at the Halloween party!

If you want to know how to make a scarecrow in preparation for the party game or to keep the crows out of your garden, there are a number of excellent videos that will take you through the process step by step.

Return to Unique Party Decorations, Party Supplies and Scarecrow Decorating Ideas to see more tips on fun games to play and things to do at your old fashioned fall festival or Halloween party.