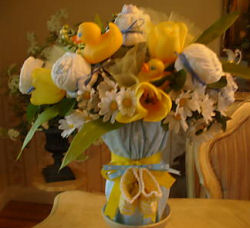 A limited baby shower budget is an excellent reason to learn how to make a baby gift bouquet. If you are not an old hand at making your own baby shower decorations you not know exactly what that may be much less how to make one. If this is the case an explanation is in order in addition to some instructions on how to make the various types of this special arrangement that is sometimes referred to as a "baby bunch" by some of the boutiques that sell this clever creation ready made.

A baby bouquet is an arrangement made up of artificial silk flowers in addition to some very special homemade flowers that you make out of items that are traditionally given as baby shower gifts like baby socks, personalized baby onesies, baby hats or other items of baby clothing that are soft enough to work with as per the video that will show you how to make a baby gift bouquet that is taken from a segment of the Martha Stewart Show.

One great thing about this homemade decoration is that it is much more decorative than a gift box sitting on a table. For the same amount of money, you have a lovely floral arrangement and a very creative baby gift. Busy moms can always order one online, but the beauty of learning how to make a baby gift bouquet yourself is that you can handpick your gifts to go with the baby shower's theme, by color or according to the gender if that detail is known.



After you watch the video, return to Unique Baby Gifts Baskets, Decorations and Party Decorating Ideas to pick up more creative baby shower ideas.