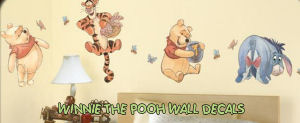 GO HERE TO SEE MORE!




For parents who may have the idea that a Winnie the Pooh nursery theme is no longer fashionable, think again. Tigger. Eeyore, Piglet and Pooh have not aged a bit since they first appeared on the storybook scene all those decades ago. But some decorators who are always on the lookout for the next cool trend have (pardon the pun) Pooh Pooh-ed the idea of decorating a room filled with images of life in the 100 Acre Wood.

Well friends, hold the presses and get ready for the real estate value of said forest to skyrocket because celebrity mom Ashlee Simpson and her husband Pete Wentz have breathed new life into the classic Winnie the Pooh baby nursery theme. They were treated to a Winnie the Pooh baby shower awhile back. Now they have released photos of their baby's nursery, albeit before the furnishings were in place, showing painted pictures of Winnie the Pooh, Tigger and friends in a cleverly designed 3D wall mural.

At first glance, the mural seems to be a classic Pooh theme wall decoration. And then upon closer inspection you see that the chalkboard on Tigger's easel is real and not just a painting. I can imagine Ashlee and Pete using the chalkboard to leave messages for each other or to make notes to help them plan little Bronx's play dates with other celebrity babies.

I hope that the post pictures of their Winnie the Pooh nursery theme once the room is completely decorated. I feel that the wall mural is just the beginning of a beautiful room for Bronx and that my decorator friends are probably busy working up similar designs as I write and that the number of requests for Pooh nurseries is going to increase tremendously in the near future.

I don't know about you, but I'm going to stock up on Winnie the Pooh gifts right away before they get too expensive for my budget!