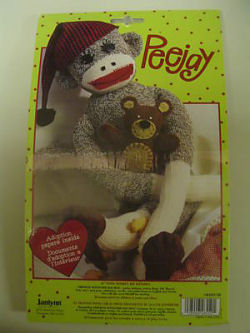 I have some excellent suggestions for sock monkey baby gifts in price categories ranging from over $100 to under $10. Your eyes are not deceiving you, there are some cute, little sock monkey gifts that your friends will enjoy as nursery decorations or toys for that will delight age groups from infants to toddlers and beyond.

We have some recommendations for more expensive items but don't despair because I plan to work our way down to the stuff that is downright cheap, but might take a little of your time to put them together. And as always, I always recommend the combination of several inexpensive sock monkey gifts in a baby gift basket rather than a single item wrapped in a package. A basket is so much more festive and original because you put some thought into it and personalized it.

Here's my list of sock monkey gift ideas!

SOCKS
- Now there's an oxymoron for you; sock monkeys made to look like socks rather than socks made to look like monkeys. One of the least expensive sock monkey baby gifts is slippers or baby crib socks. They are cute as well as practical and a newborn looks so precious lounging in the crib or cradle wearing little shoes that match his or her sock monkey theme baby bedding set.

SOCK MONKEY DOLL
- Okay, I know that this may not be the most creative or unique sock monkey gift idea, but in this case the obvious should not be over looked.

SOCK MONKEY KIT
- A complete kit that includes all the stuff that mom needs to make her own doll for her kids. Or if you are a better crafter perhaps it would be better for you to pick up a sock monkey
kit and make it for her?

DRAWER PULLS
- Buy some plain wooden knobs, craft paint, draw a sock monkey pattern to make the drawings consistent and start painting. Sock monkey drawer pulls will pull the most boring of dressers in line with the rest of the kids' sock monkey decorations for a very cheap price.

CRIB QUILT
– Pick up some fat quarters of sock monkey quilting fabric and make a patchwork quilt. If you are in a pinch for time, a four patch pattern that is tied rather than hand quilted will be just as appreciated as one of heirloom quality especially if it is used as the liner in your sock monkey baby gift basket.

Return to Unique Baby Gifts Baskets, Decorations and Decorating Ideas to see more recommendations for affordable items that make a big impression at the party or shower.