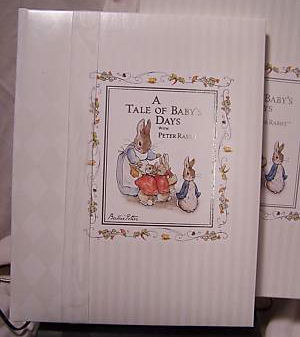 Start a baby's Peter Rabbit book collection with a Peter Rabbit baby record book as a baby shower gift. A pretty record book makes a great baby gift that is both thoughtful and helpful. Baby books provide a convenient place where mom can document all the milestones in an infant's life in an attractive and organized manner that will surely be a treasured keepsake once the little one grows up to have children of his or her own.

Even the least inclined record keepers among us will enjoy taking a break from their busy schedule to enjoy the watercolor graphics and preserve their family's memories in a Beatrix Potter or Peter Rabbit baby record book. For many the activity will be a trip down memory lane back to the days of their own childhood as the pages often follow the storyline of the series. Along with the illustrations in the book, there are designated areas to list the date that each of baby's achievements took place. What a joy it will be later on to pick up the Peter Rabbit baby book and know the circumstances that produced baby's first smile and the exact date that baby's first steps were taken.

Many baby record books now include special envelopes or receptacles where a curl can be kept from baby's first haircut or that first tooth that the tooth fairy was kind enough to leave behind for mommy and daddy to save as a keepsake. Families involved in genealogy might choose a Peter Rabbit baby record book that has a section for the family tree as well as a page for baby footprints and handprints pictures as well as a copy of the birth certificate.

When I choose items to include in a gift basket, I like to include things that have a long lifespan. And without a doubt a baby record book as a baby shower gift fills that qualification as well as Beatrix Potter and Peter Rabbit figurines. The reason I might choose a baby record book over collectibles is because it may encourage young mothers to spend a moment to record special moments before they are lost to time. And that is a truly precious gift.

Return to Unique Baby Gifts Baskets, Kids Stuff and Party Ideas to see more recommendations for gifts that fit every occasion.