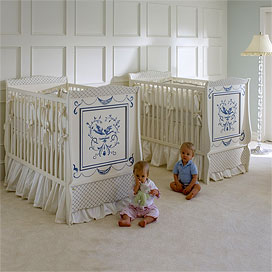 PoshTots.com - Extraordinary Child Furniture



Who wouldn't love to have hand painted custom baby cribs in their nursery? Delft blue birds and scrolls with vines tying the graphics together in one neat package that oozes luxury is enough to make any mother who is decorating a nursery for a baby boy wish for artistic abilities or at least a friend who knows how to paint.

Even if you have no talent in this area, take heart. There are stencils that will duplicate those graphics so closely that you will be amazed! Buy a white baby crib, some periwinkle or Delft blue baby safe paint and try your hand at designing your own custom baby crib using stenciling techniques to decorate your baby's bed with:
Birds
Beach scenes
jungle animals
You could also paint your baby's monogram or his name if the idea of painting entire pictures doesn't hit you just right. There's no need to settle for anything less than something truly stylish when it's so very easy to transform everyday beds into custom baby cribs that will have your friends asking you to help them with their designs. If you are strapped for cash, offer your custom painting services to your friends in lieu of a gift from a baby boutique.
Return to
Unique Baby Gifts Baskets, Kids Stuff and Party Ideas
to see more suggestions for clever ways to turn everyday items into something special.