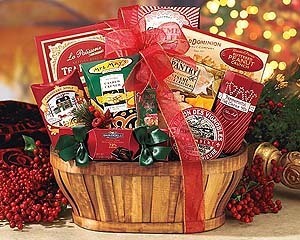 I am bringing things back to basics and providing instruction for making gift baskets for our visitors who have yet to enjoy the compliments and appreciative remarks that a nicely decorated gift basket filled with items can bring. If you have a plan, they are easy and fast to put together and if you are a frugal shopper you may save money!

SUPPLY LIST

The first item on your list should be a large, pretty woven basket. One with a handle is not necessary, but handles covered with ribbons and decorations are very elegant. Here's a list of items that you should have on hand before we move along in our instructions for making gift baskets:



A large woven basket

Wide ribbon, narrow ribbon and curling ribbon in a variety of colors

Rolls of both colored plain and patterned cellophane

A hot glue gun with extra glue sticks

Silk flowers or greenery according to your taste

Some people like the look of a floral arrangement in the center of the gift basket and others like to keep the space for gifts alone. If you want to forego the floral arrangement, you will need to line your basket. For a baby's basket you might use a pretty,
personalized baby receiving blankets
and if you are making a gourmet wine gift basket you might use large napkins or a folded tablecloth for your liner.
Arrange your gift items on top of your chosen liner filling in the open spaces between with ribbons tied in love knots or sprigs of greenery or flowers. Another idea that I would like to add to your instruction for making gift baskets is that you can substitute pinched squares of patterned cellophane for the leaves and flowers.
To decorate your gift basket's handle you should cut a yard of the curling ribbon and use it to wrap the handle from one side of the basket to the other starting and finishing off the decorative process with a neatly tied knot. Using your wide, satin ribbon tie a large bow to add to decorate the top of the handle leaving the ends to trail down over your presentation.
You will then take your clear cellophane in a matching color and cover the bottom portion of the basket taping the sides of the sheets in place while making nice "spikes" of cellophane at the sides of the basket. If you notice a spot where things are not lying smoothly, use your glue gun to attach a love knot to give it a more finished appearance.
Return to
Unique Instruction for Making Baby Gift Baskets, Kids Stuff and Party Ideas
for more tips on how to create beautiful baskets full of the best gifts for kids and adults alike.