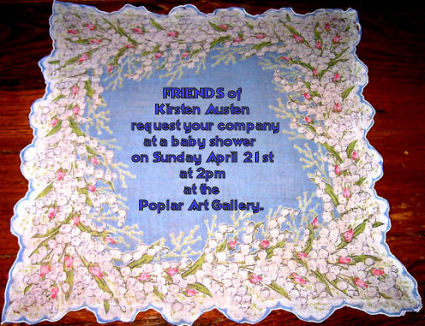 GO HERE FOR MORE


A friend of mine was shopping for vintage baby shower invitations ideas when she saw some wedding invitations that had been made by screen-printing the invitation on the center of vintage handkerchiefs by Bird and Banner. What an excellent idea that would present each guest with a sweet keepsake this is! I'm a huge fan of vintage handkerchief crafts and this one really tickled my fancy.


And what fun we had shopping auctions, cruising estate sales and antique stores for pretty hankies that we felt would be suitable for printing in pretty designs and colors. After finalizing the guest list, we knew the exact number of handkerchiefs that we would need for our vintage baby shower invitations and went on a shopping excursion that took us far more time that we might have initially imagined. Apparently we are not the first to dream of uses for vintage hankies!

The problem was not only finding vintage hankies with a large center medallion that would accommodate the wording that was necessary but finding attractive examples with no tears, stains or damaged embroidery. At the time of this article, we have ten more to buy before we can start to get bids from printers but I could not resist playing around with one of my favorites in my photo editing program to give you an idea of what I have in mind for our vintage baby shower invitations using one of the sweet handkerchiefs that we have so far.

I can't decide whether I prefer the colorful layout of this baby blue, pink and green fabric print or the elegant embroidered white on white hanky but I know that they are going to make a lovely presentation carefully creased and folded around the baby shower's rsvp card and held by a pretty sleeve that one of our crafty stamping friends is designing especially for us.

Return to Unique Party Decorations, Party Supplies and Decorating Ideas to see pictures of the finished product and of our decorations.