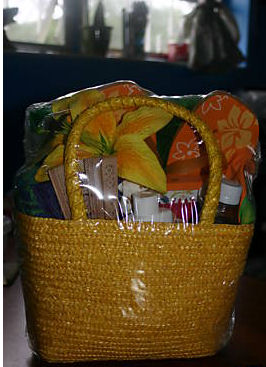 My beach gift basket ideas for beach birthday parties and baby showers after the 4th of July get really creative. You might be wondering what it is about the holiday that sets the crazy lady who maintains this blog in motion. The answer to that question is the discount sales.

It has always puzzled me to no end that the stores rush to mark down the prices on beach toys, swimsuits and all the fun stuff that is associated with a day spent playing in the water. Not that I'm complaining about being able to fund my beach gift basket ideas for such a cheap price but do these people not pay attention to thermometer? I don't see the mercury dropping in correlation to their pricing practices but so long as their premature discounting of their swimwear and beach toys works in my favor, I'm cool with it.

The day after Independence Day I put on a pair of comfortable shoes and head out to the mall with my eyes open for markdowns. I'm pretty organized when it comes to sale shopping and I have a basic procedure that I follow which I will share with you.

First of all I scout for beach buckets for to load up with baby beach gifts as well as older kids' gifts and pretty, woven picnic baskets to use for adults. What I find in this section tells me what direction my beach gift basket ideas should take so far as color scheme is concerned.

Second, depending on the age of the recipient, I look in either the department specializing in home and garden decor or the toy department. The patio and pool section is generally where I find the most inspiration for my beach gift basket ideas for my adult friends and family members. Festive margarita glasses and a pitcher surrounded by colorful napkins in a picnic basket make a lovely presentation. I usually pick up teeny weeny baby beach wear and swimsuits for half price or less, some baby sun protection and a beach hat to add to the bucket full of beach toys that I bought early in the shopping extravaganza with the next beach theme baby shower in mind. I always buy extra buckets and baskets if they are cute and offered at a good price because you just never know when you might have need of one to hold matching beach gift basket ideas and party decorations.