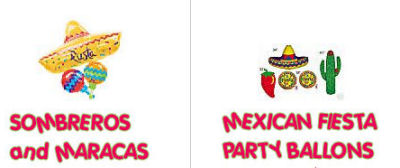 Don't buy your fiesta party decor until you take note of our recommended fiesta party decorations and decorating ideas. Chances are that there are some items that you can use to decorate your kid's birthday party right under your nose which translates into savings for your party budget.

It's true that very few individuals decorate their entire homes in a south of the border fashion. But no matter what your favorite decorating ideas may be there is a chance that you will have a few items that will add to the atmosphere and fill a blank spot where you would otherwise have to buy something specifically to decorate the location.

WHAT SHOULD I LOOK FOR?

Before you start dragging out the contents of your closets, trunks and cabinets you should know what fiesta party decorations actually look like. They are not all about party hats and cactus plants (although those items could provide an excellent foundation for your Fiesta party's decorating ideas). Classic motifs associated with your birthday party's or baby shower theme should be used sparingly to give maximum visual impact. Here are a few very ideas for free or at least very cheap Fiesta Party decorations:





SOMBREROS: Pull out the sombrero that you wore while dancing in the streets of Tijuana on your last Mexican vacation and use it to decorate the doorway leading into the party. If you have more than one, you can use them to decorate the walls of the room, the reception area or the gift table.


MARACAS: Authentic maracas will make a beautiful centerpiece for important areas of the party.


PATIO LIGHTS: Inexpensive strings of chili pepper or cactus patio lights will light up the night and give your pool party boatloads of atmosphere.
FIESTA PARTY DECORATIONS and DECORATING IDEAS FOR THE TABLE
A colorful Mexican sombrero decorated with a crossed pair of maracas arranged on a woven blanket on each guest table surrounded by coordinating plates and tableware will make a very attractive first impression when your guests arrive.
HOMEMADE STUFF
Start making your homemade fiesta party decorations ahead so the activity will be fun instead of a chore. In fact, you could plan a barbeque where instead of party games, you can make Papel Picado, cheap Mexican cut paper decorations, to use at your upcoming Fiesta party.
MEXICAN FIESTA PARTY FAVORS
Strings of blinking chili pepper beads are fun and festive as well as cheap plastic maracas and sombreros that the kids can take home with them to add to their trunk of dress up clothes.
COLOR
Bold, bright colors are the rule of thumb. Think red chili peppers, the golden color of corn and the rich green of a bell pepper.
Even if you use just a few of my recommendations for
Fiesta Party Decorations and Decorating Ideas
your guests will add you to their list of favorite hostesses whose parties they do not want to miss.