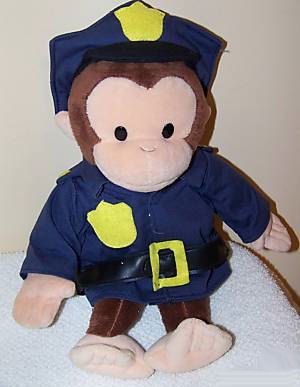 It's easy to make your own Curious George gift set! Pick up a Curious George plush toy and go from there. No matter what the age of the recipient may be this should be the centerpiece of your basket. Even if the birthday boy or girl is a grownup, if they are into to this funny monkey they will appreciate another stuffed animal to add to their collection.

The thing that has attracted me time and time again to this stuffed doll over the years is his engaging personality, or should I say his many different personalities. Vintage Curious George toys depict little more than a cute, brown monkey wearing a red shirt and a cap with his name on the front.

Recently, he has started to wear more hats so to speak. Meaning that our little friend has started to enjoy playing dress up in various costumes and is involved in more activities than your average chimp resulting in interesting Curious George plush toy themes!

For instance, we might find a Curious George policeman, fireman or even an astronaut doll. Of course there are still plenty of traditional Curious George plush toys from Gund and other toymakers on the market for kids who still appreciate him in his original form. But I can see where his role playing in various professions and personas will give me more opportunities to include him as the star in my gift baskets for a police as well as a fireman theme baby shower or birthday party.

Return to Unique Baby Gifts Ideas Baskets, Kids Stuff and Party Decorations to see more fun recommendations for the next shower or party you host or attend.