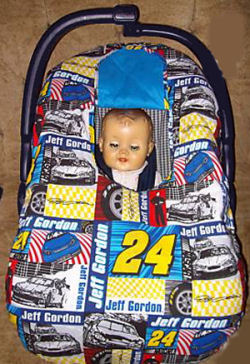 You can never have too much NASCAR baby stuff on hand to give to your friends who are avid racing fans. When I saw this cute, Jeff Gordan print baby carrier seat cover I knew I had to post it to help those of you that are looking for something for a baby shower gift.

Pick out your own fabric with your favorite driver's name and number and have a custom made car seat cover, a baby walker seat cover or shopping cart seat cover made to your specifications. Fill a NASCAR baby gift basket with goodies like a fleece receiving blanket, some NASCAR baby clothes and booties that match the NASCAR racing bedding set in the baby's crib to outfit an infant in true racecar style.

A shower gift basket filled with NASCAR baby stuff is a super gift idea for the shower where dads will be attending. Nothing makes a daddy smile like the idea of his baby boy going with him to the racetrack.

Return to Unique Baby Gifts Baskets, Kids Stuff and Party Ideas to find more suggestions for themed items for kids.