You can make your own Dr. Seuss plaques by using a decoupage craft technique and some pictures that you copied from one of the kids' Seuss storybooks. Here are the instructions.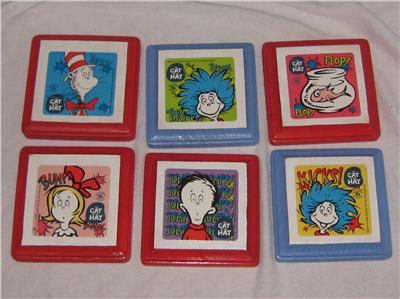 SEE MORE HERE!

Use your color copier to make copies of your favorite pictures.

Buy some square shape wooden plaques and paint them whatever color that you need for them to match your kid's Dr. Seuss bedroom color scheme. Dab a little bit of glue on the back of the picture to hold them in place and then position your copied pictures in the center of each plaque.

Cover them with a few coats of high gloss sealer and then let them dry completely. Once they are dry you can arrange your Dr. Seuss plaques on the walls whereever you please.

This easy craft project is also a very creative way to recycle partially damaged kid's books if you happen to have some on hand. Cut out the pictures that are in good condition and toss the rest. Your Dr. Seuss plaques will make an excellent homemade baby gift for a friend who has chosen to decorate with a few Dr. Seuss plaques and a Dr. Seuss baby nursery bedding set for her baby's crib.

You might include some Dr. Seuss baby clothes and Horton Hears a Who or Cat in the Hat in the baby's gift basket.
I can't think of any new mother who wouldn't appreciate a few personalized Dr. Seuss baby items and wall decorations at their baby shower no matter how her baby's room is decorated.

Please make plans to visit us again soon to find the latest in Dr Seuss baby shower decorations and inexpensive handmade items that will make a lovely presentation at the birthday party or baby shower.