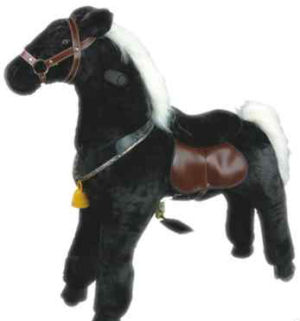 Riding toys for girls and boys have been around practically since the invention of the wheel with examples from the depression era and beyond existing to this day. If you are fortunate enough to have one of these antiques in your possession, I do not need to tell you the wisdom in telling your kids to take good care of their toys.


Steif and other brands of toys with wheels are not only hot items with today's nursery crowd; they are valuable collectibles that are worth many times their original price. Value appreciation alone is no reason to amass a collection of plush ride on toys. The brilliant smile on a little girl or boy's face when the riding toy is discovered under the Christmas tree or inside the big box at the birthday party is the best reason in the world to invest in a toy with rockers or wheels.


Toddlers just love to hop on the backs of animals and ride their way across imaginary landscapes have the adventure of a lifetime with no fear of danger or harm. If the
riding toy
is musical, they can enjoy music during their time on their ride on toys. The only drawback to styles with music is the need for batteries. Some parents feel that battery operated toys are an aggravation. If you want to keep your child's entertainment as uncomplicated as you possibly can, you may want to skip the musical ride on toys and stick to the silent models or find one that has music that's generated when baby is rocking or riding only.


FAVORITE RIDE ON TOYS

For collectors or moms with a lamb nursery theme, Steiff riding toys --- lamb shaped to be specific are highly sought after.
Second in line, it should come as no surprise that toy riding horses are a big favorite. It seems that kids are naturally born to be cowboys and girls and every little cowpoke needs a wooden pony to practice on until he can get the real thing.
The new favorite is no stranger to the farming community; tractor riding toys. When it comes to tractor gifts John Deere riding toys are at the top of any farming family's list.
Coming in behind these traditional favorites are riding toys designed as everything from child sized Hummers to jeeps.

RIDING TOYS as GIFTS

It would be impossible to go wrong with a riding toy for a newborn. This clever gift idea will make the parents happy if it contributes to the design of the baby's room. When the child is nine months old or so the toy will be put to good use. Who knows which modern ride on toys will be the collectibles of tomorrow? We will just have to wait and see. In the meantime, the kids will ride away the hours on their favorite riding toys.

Return to Unique Baby Gifts Baskets, Kids Stuff and Party Ideas to get more information on the top ride on toy recommendations for the kids on your gift list.