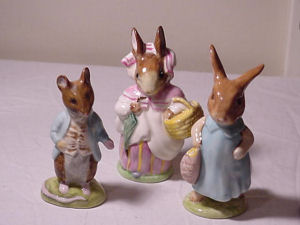 BEATRIX POTTER
and
PETER RABBIT FIGURINES.



Beatrix Potter and Peter Rabbit figurines are a lovely gift idea that may actually appreciate in value. Even if this is not the case, a gift basket filled with a storybook, a onesie and some collectibles will make a nice impression at the baby shower.

If you are indeed buying Beatrix Potter figurines for a baby's nursery or a child's bedroom you may want to include the gift of a shadowbox or wall shelves unless mom has shelving where the collection of porcelain figurines can be kept out of baby's reach. It would be so sad if the gift that included in your special gift basket presents a danger to the child it was intended to delight or if it was broken.


Beatrix Potter and Peter Rabbit figurines
that represent the beloved storybook characters are one of my favorite gifts to give because they are long lasting (under the right circumstances) and once they are discontinued the figurines become even more collectible. I love the pretty pastel colors of Beatrix Potter and Peter Rabbit figurines and plush toys, but if your friend is not a collector, consider giving sterling silver or inexpensive pewter figurines so that the baby can hold them and enjoy them without worry.

Return to Unique Baby Gifts Baskets, Kids Stuff and Party Ideas for more suggestions on how to choose Beatrix Potter and Peter Rabbit themed room decorations to give as gifts.